Oil painting clouds and seascape
_________________
_________________
_________________
_________________
Direct from the Artist

100% Hand Made Paintings

Free Shipping
.
Knife Oil Painting: The OLD NIGHT FRANCE STREET. www.Rybakow.com - cityscapes palette knife art.

Video-article: OLD NIGHT FRANCE STREET
Today, in the gallery of contemporary painting with oil and palette knife, I would like to talk to you about my favorite story in paintings. This evening the old streets, lights in the night light, sweet yellow houses with red roofs.



The size of the autumn night city landscapes painted with palette knife: 16" x 16" inch. Oil on canvas. 2012.

When I wrote my first painting of such a subject, I can not remember ...
While looking through my archives and devotees great memories, I remember it!
I share with you my very old painting that adorns the wall long ago Buyer: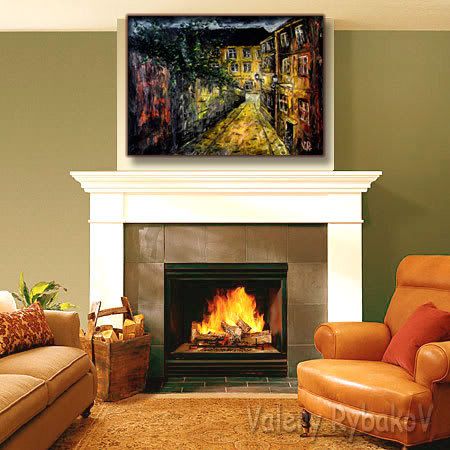 Since writing this painting's been 6 years. How quickly time passes. I think I wrote this painting yesterday.
But now we are talking about a new night city painting painted with palette knife on canvas. I call this painting: OLD NIGHT FRANCE STREET.

I think this name fully reflects the essence of the new city autumn paintings.
I do not know why, but I'm comfortable in this painting. I slowly walk along the lonely street of yellow houses with red roofs. Around me the peace and tranquility. Lifting his head up, I see the endless night sky, dotted with millions of beautiful stars. Only the old street lamps, carefully attached to the yellow walls of the houses, trying to shine brighter than the stars and they want me to pay attention to them.
Time stands among these, as if from childhood, houses with red roofs. It stops somewhere in a hurry. Time stands still and you are immersed in a silent state of calm and pleasant leisurely. You can easily BUY this OIL PAINTING- just CONTACT me!

Looking ahead, I want to share with you, dear fans and visitors gallery www.Rybakow.com/eng/. The fact that at the time of this writing (December 17, 2012 today), I finish work on writing my favorite big-painting themes. The plot is still unfinished painting, which I'm writing with oil and palette knife, right on the yellow houses with red roofs. So, the news is that it would be a great article, there are plenty of step by step photos of the stages of painting. In other words, I'll post a lesson on the topic: how to write old lonely streets with yellow houses and red roofs of oil paints and palette knife. I think the workshop you will be interesting, as I try to photograph the key moments in the creation of the painting.

At this point I think is enough for today. I finish the story and leave you alone with a new painting painted with oil paints and palette knife on canvas, entitled: OLD NIGHT FRANCE STREET.

Thank you! Happiness and love you!

And I just add to the enlarged fragment of this painting:



To the general impression of the new painting The OLD NIGHT FRANCE STREET, I'll show you how to look at painting the interior:



MORE POSITIVE oil painting with palette knife on CANVAS SEE IN THE GALLERY PAINTINGS ARTIST OR ART-BLOG

Your artist Valery Rybakow
.