When I wrote this oil painting I wanted to show rather than the outer shell of the body, and what lies beneath it - the soul experiences an inner struggle of ideas.
This palette knife oil painting I tried to write in a new way for themselves. In general this fall and winter saturated in my work in terms of experimentation. I try to paint for yourself unusual techniques and images.

There will be an article about one big size painting that I started writing one hoping for a plot, and my whole being protested, and wrote a completely different story.

Here are pictures of the big palette knife painting.


I also have another completely new experimental knife oil painting:


A more detailed account of these unusual features, read the description of these paintings (click on photos you like pictures).

I'm a little distracted :-)

Thus, the pattern of such a plan (the image of man, human nature), I did not write for nearly four years. This is a long time to agree. That painting palette knife,


which was written by my palette knife in January 2008. If you look in more detail in the zoomed picture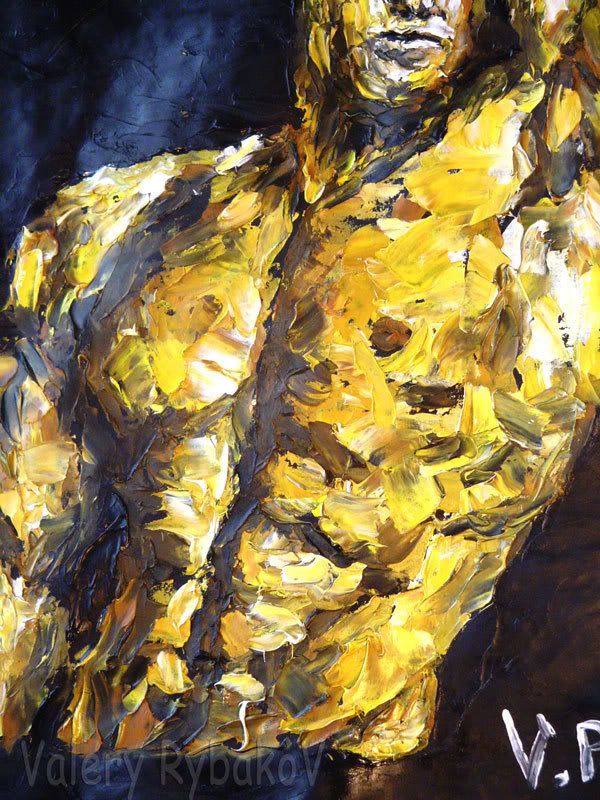 we see oblong bold strokes.
New nude oil painting palette knife, I tried to write not elongated (linear) strokes, but rather a point (triangular). Here's a look at the photos of friends:



If you look at an enlarged fragment of the oil painting and palette knife, you can see how thick and bulky brush strokes it is written. I'll tell you honestly what my subconscious led to the use of such generous strokes, but the picture of the results has a nice weight in the hands :-)


So, dear friends, this art will appreciate human nature. If it would cause emotions in your soul - I will be glad and happy.
And who wants to buy this palette knife oil painting - please contact me.

Artist Valery Rybakow. Original palette knife oil painting for sale "Naked Soul", oil on canvas, palette knife.
Size painting: 23.5" in x 15.7" in, 2012.


Photo of palette knife painting "Naked Soul" in the interior.





Thank you and God's love to your heart!