flower Painting - Oil Paintings Impressionism Art Gallery
On this art-gallery-page you can see and buy flower oil paintings for sale by artist Rybakow - flower impressionism painting - flower palette knife oil painting art online.
Flower 45
- original art by
impressionism
oil painting
artist Rybakow
PAINTED SIZE:
20" x 19"
50cm X 48cm
MEDIUM :
Oil on Canvas
DATE CREATED : 2009
Original painting is oil on canvas and painted with a palette knife.
DESCRIPTION :
ORIGINAL PAINTING, HAND SIGNED, TITLED and DATED BY THE ARTIST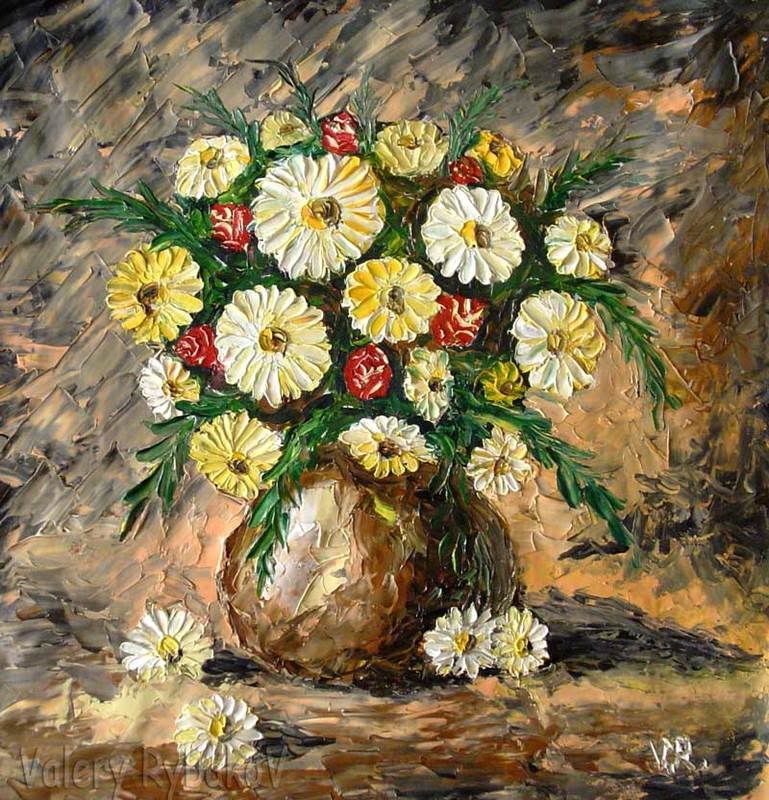 In the career of the professional oil painting palette knife impressionism artist I tried various styles and technicians of painting.

The greatest satisfaction and pleasure of my soul causes drawing of canvases with painting with oil and palette knife.

In each painting I try to transfer beauty and pleasure of a life, unique harmony of soul.

It is the heavy technics of drawing of paintings demanding a lot of time, forces and spiritual experiences.

However each painting drawn by me shows bright paints full of human emotions and a sincere impulse to beauty every instant to this fine life.

ÜBER ARTIST

In der beruflichen Laufbahn des Künstlers habe ich versucht verschiedene Stile und Techniker der Malerei.
Die größte Zufriedenheit und Freude meiner Seele Ursachen Zeichnung Gemälde mit der Malerei mit Öl-und Spachtel.
In jedem Bild versuche ich, um Schönheit und die Freude des Lebens, einzigartige Harmonie der Seele.
Es ist die schwere Technik der Zeichnung von Gemälden, die eine Menge Zeit, Kräfte und spirituelle Erfahrungen.
Aber jedes Bild von mir, die zeigt, helle Farben voll von menschlichen Emotionen und Impulse für eine aufrichtige Schönheit jeden Augenblick auf diesen feinen Leben.
Ich freue mich zu informieren, dass seit dem letzten Mal, wenn ich die Bilder zu verkaufen und auf meiner Website: www.rybakow.com/de/
Meine Bilder sind in Sammlungen in den verschiedenen Ländern der Welt: USA, England, Italien, Frankreich, Kanada, Australien und anderen Ländern.
A PROPOS DE L'ARTISTE

Dans la carrière de l'artiste professionnel, j'ai essayé différents styles et de techniciens de la peinture.
La plus grande satisfaction et le plaisir de mon âme causes dessin de toiles à la peinture à l'huile et le couteau.
Dans chaque tableau, j'essaie de transférer la beauté et le plaisir d'une vie, l'harmonie de l'âme unique.
Il est le lourd des techniques de dessin de peinture exigeant beaucoup de temps, les forces et les expériences spirituelles.
Mais chaque tableau dessiné par me montre les peintures lumineuses plein d'émotions humaines et d'un élan sincère à la beauté à chaque instant de cette belle vie.
Je suis heureux d'informer que, depuis quelques temps, je vendre les toiles et sur mon site: www.rybakow.com/fr/
Mes peintures sont dans les collections des différents pays du monde entier: USA, Angleterre, Italie, France, Canada, Australie et dans d'autres pays.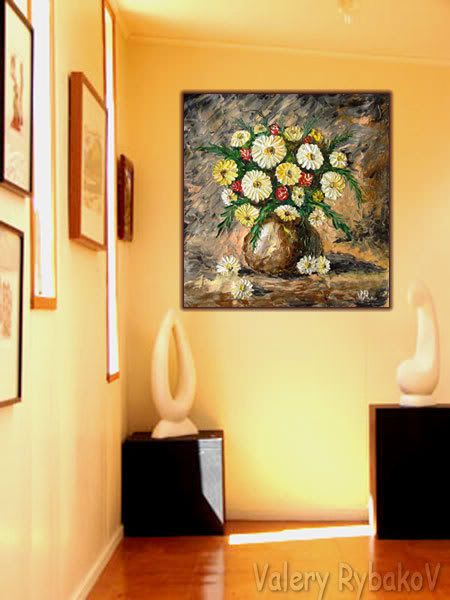 Close Ups Below
Frame and sofa not include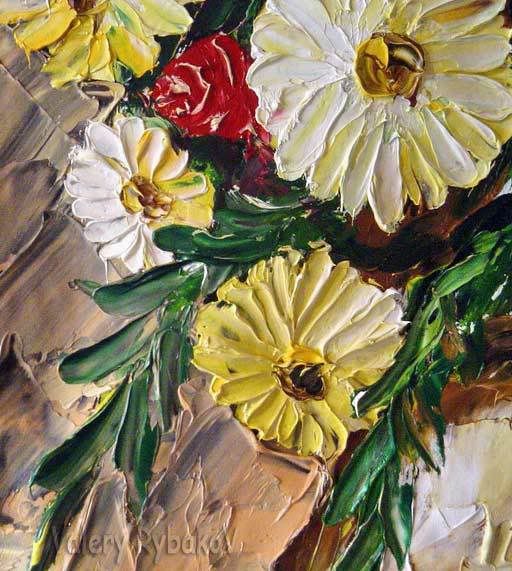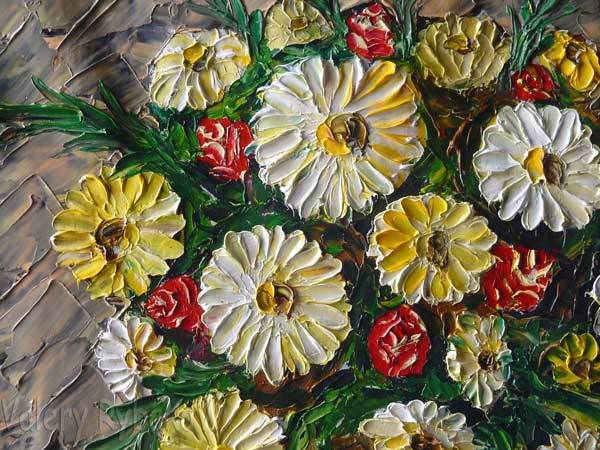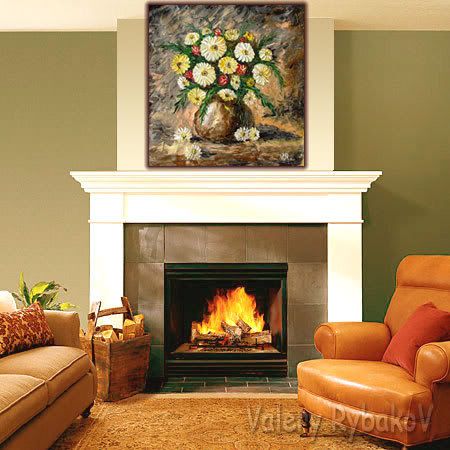 Frame and sofa not include
SHIPPING AND HANDLING COST:
CANVAS:

ROLLED

STRETCHED

SHIPPING POST:

STATE AIR POST

STATE AIR POST

POST

DELIVERY TIME:

2 week

2 week

5-7 day

SHIPPING AND HANDLING COST:

$38
All the paintings are shipped within 1-2 days after the payment is received.

I strongly express that our default cost for our listing under SHIPPING AND HANDLING for ROLLED CANVAS or STRETCHED CANVAS includes actual SHIPPING CHARGES such as transportation, TFS and VAT plus a reasonable PACKAGING and HANDLING CHARGES to cover our materials cost.
WORLDWIDE SHIPPING
New ! Original videos my oil paintings online
Sara from Spain:
The "Old Russia" and "Flowers Bouquet" are stretched in my home... fantastic paintings!
Here's also some pictures of the two paintings since I bought you ... All my friends love!
Greetings!
Natalia and Alex from USA: Thanks!
GALLERY WRAPPED PAINTINGS SERVICE FOR ADDITIONAL PAYMENT
Modern Art www.rybakow.com palette knife Oil Paintings
POSTED BY: Fiona Robinson : wow that is pretty sensational work there Valery:0
" Beginning of autumn 106 " by Rybakow - buy autumn
POSTED BY: Anneke Hut : This must look so great in real!! You are very talented, Valery!
Modern Art www.rybakow.com palette knife Oil Painting
POSTED BY: Sharon Gonzalez : GORGEOUS WORK, VALERY. WOW.
" Old court yard 107 " by www.rybakow.com -buy art
POSTED BY: Fiona Robinson : wow, stunning work Valery, you work always takes my breath away:0)
Modern Art www.rybakow.com palette knife Oil Painting
POSTED BY: Emily Reed : SUPER TECHNIQUE!
POSTED BY: Tora AMAZING. I love the colors, they are relaxing but almost full of energy all at the same time.
Very beautiful painting.
POSTED BY: Papaya I checked out your web site and you certainly know how to use a knife to paint, fabulous!
" Beginning of autumn 106 " by Rybakow - buy autumn
POSTED BY: Beatrix Jahn: Very nicely done! Great detail...really like it. The colors are beautiful.
POSTED BY: Viola Valery, I really like your work. It's very beautiful, lively and colorful.
Safe Shopping
If you have any questions or you interested to purchase painting - write me.